Location : Verandah Hotel and Spa.Antigua.
Date: Feb 13th -28th
Holiday Plan.
1.  Lots of quality family time .
2. Eat super healthy.
3. Go to the gym everyday.
4. Play tennis with the whole family or just me and Vin when the kids are in kids club.
5. Some time alone with my amazing man when the kids are in Kids Club.
6. Make my 40th birthday a day to remember.
Well,2 out of 6 isn't bad.
We definitely had quality family time, in fact the best time with my beautiful creatures and man but no couple time…. The shrimps were not down with the kids club and why would they be? We were having too much fun together.If I'm honest,was I happy they didn't want to go to the kids club? Yes,I like them to be with us always.Would my husband of liked them to go to Kids Club? Hell yeah.But it didn't happen.They had fantastic activities all day everyday but they were happy on the beach swimming, catching crabs and building sandcastles.Cas disappeared into the sea for the first few days with friends he'd made but apart from that we were a full squad for 2 full weeks.
After a few days in Brighton and now here,3 weeks of constant us-ness , has not come with out its challenges.
Caspar is rapidly becoming a teenager (he's 10 going on hormonal) and is the majority of the time an absolute delight…unless he decides that he's bored for a minute.
INSIDE CASPAR'S BRAIN "HMMMM SHOULD I EAT SOME CRISPS OR SOME FRUIT? OH HANG ON A MINUTE,THERES MY SISTERS PLAYING REALLY NICELY AND NOT ASKING MUM A MILLION QUESTIONS…I KNOW I'LL GO AND TAKE THEIR TOYS OFF THEM AND CONTINUALLY PAT THEM ON THE HEAD WITH SAID TOYS UNTIL THEY WHINE 'CASPAR STOOOOOP' 17 TIMES,WHICH I'LL OBVIOUSLY IGNORE.AND FINALLY MUM WILL SCREAM AT ME 'CASPAR CAN YOU NOT HEAR THEM SAYING STOP,SO STOOOOOOP!'
WHYS MUM ALWAYS SHOUTING AT ME? SOOOOO UNFAIR!!!" 😐
We've all got our own rooms, as we're staying in a beautiful 2 bedroom villa which has a huge lounge with a sofa bed, which Cas has made his own room.When you've got 3 kids, travelling automatically becomes trickier and pricier. For example…on our way back through London,we wanted to stay at a hotel close to City airport for our early flight the following day.All family rooms only hold 2 adults and 2 kids and there were none with connecting doors available…so we've AirBNB'd it, no biggy.
But the 2 bed villa was perfect for us…loads of room to be together but not on top of each other.And the plunge pool with the view of the turquoise sea on our terrace was just heaven!! We made excellent use of the plunge pool,as you can see…….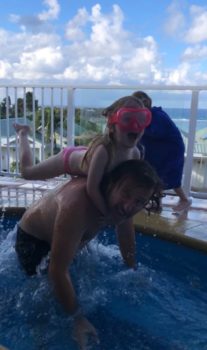 So back to the list that didn't happen.
"Eat super healthy and go to the gym everyday ."
I honestly had the best intentions but then ……….
Life happened aka all inclusive happened.
I went to the gym………once,on day 2.
Then after I'd stopped tricking myself that I was someone else..normal holiday type behaviour resumed.I ate a comedy amount everyday….breakfast time looked like I was in some Man v Food eating competition.
Most days started with a pile of French Toast,Bacon and maple syrup.
And religiously I had a Strawberry Daiquiri in my hand by lunch.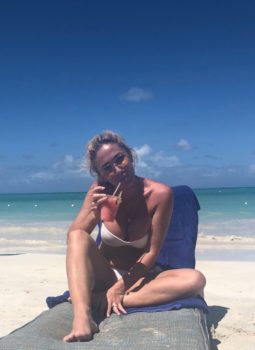 One evening I was sat at a table ordering Vin and I a couple of Rum and Cokes,when an Elle McPhearson-body-a-like chirped up from the next table,in a sexy American drawl.. "Did you know those things have 370 calories in?"
To which I replied "I do now, cheers!"  What I wanted to say was Oh Get lost thief of joy!!!
Anyway,we ate, we drank and we danced….My tummy is, as Blake nicely put it "Rounder".
And speaking of Blake…My little fashionista has an opinion on lots of things….on this holiday, her subject du jour was eyebrows.
And being 5,what she has to say, she says quite loud.
And its not just the volume in which she gives her critique, its the tone and the facial expression that comes with it .
It would be really funny if it was someone elses kid but when its yours, you really want the grout to open up.
We had
"Why are that ladies eyebrows so skinny?"
"Are are they just tattoo's and no hair?"
And (laughing her head off) "Ooof those are big eyebrows"
I mean, I have got a quite an eyebrow obsession (I blame Nilam and HDBrows) so its highly likely its my fault.
On this holiday alone,I've dyed my brows 3 times as the sun kept bleaching them…I also left the dye on too long on one time and spent the following day looking Robbie Rotten but still… children and their lack of volume/filters are just too much, if not rather funny.
The whole family agreed that my birthday was the best day.The kids woke me up with gorgeous cards and gifts (and coffee).The Husband came up trumps with a gorgeous diamond ring and a beautiful bracelet, which I love….lucky girl.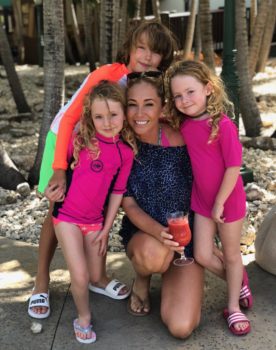 And after breakfast,the hotel had arranged a super cool boat trip for us to go swimming with Stingrays.Whilst at breakfast that morning,I was holding Nico at the omelette bar and the lady asked us what my birthday plans were…..I told her what we were doing and she opened her eyes super wide and loudly whispered in a beautiful strong Caribbean accent "Ahh now, ya think its a good idea and the next minute, them coming atchya in the water like Jaws,they be huge!!!" and then proceeded to do the Jaws theme tune  😳.Thank God I was with Nico who didn't get the analogy, if Caspar was there, he would've 100% changed his mind🙈.
Regardless of the Jaws warning we went,Vin and I loved every second.The kids were a little less sure at first but got into it.In their defence,theyre big, really big.But we all agreed it was an amazing experience we'd never forget.The photo below was just before he sucked my tummy……weird!!!!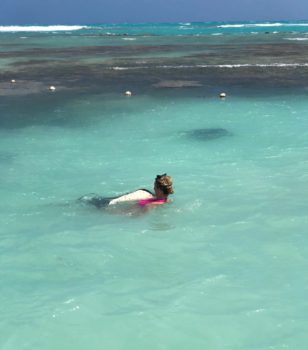 After that we went for a amazing lunch on the beach…It rained but after the rain came a gorgeous rainbow…which I like to think was my Mum and Dad saying Happy Birthday.
Turning 40 was quite a day of reflection for me.I'm usually a full steam ahead,looking forward type of person but I found myself thinking of how I'd got to this day and all the important people who had made a mark on my life in one way or another…so when we sat down to eat and I attempted to give a little toast and tell my pack how much I loved them…I got all emotional and started crying like a great big whally.Although they very happy tears….I was quite overwhelmed with gratitude for life and the day in general.I've literally winged it my whole life in everything I've ever done and never felt like I was in the right place or that I was good enough.But at this moment,I knew I was where I should be and I know I'm a bloody good Mum,obviously still winging it because its new everyday but its a different kind of winging it….Its a confident wing!
All in all, our trip to Antigua was a huge success.
The hotel was perfect for us and we made some beautiful family memories.
Thank you Antigua!!!!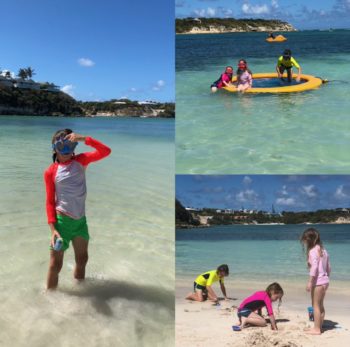 Things we did….
Devils Bridge.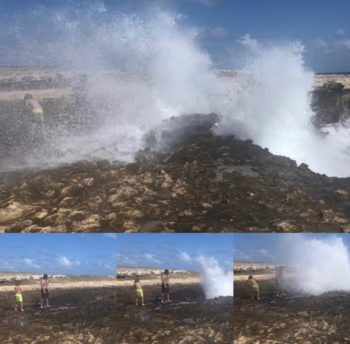 This is a sort of arch/bridge which has been carved out of the rocks by the sea, really cool and funny if you're daft enough to get close.Makes you remember how much of a bad ass Mother Nature is.
Ziplining.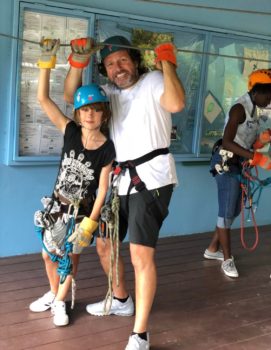 Ziplining through the rainforest.
The boys did this as the little ones weren't up for it… I was gutted.
They did 13 Ziplines…some not so big and some whoppers!! Cas said it was "Awesome!"
Swimming with the Stingrays.
As a family,we're big into nature and love getting out there.We all love wildlife documentaries too, so this was an incredible experience for us….but I can see how some people were freaked out.I on the other hand would do it all again tomorrow….amazing!!
Kayaking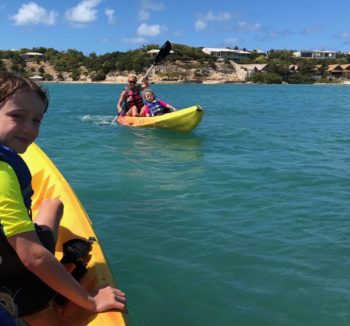 We went kayaking a few times and loved it although it normally ended in a race and an argument…very competitive kids (and Mum🙈)
English Harbour.
A lovely little port, we had a nice coffee and walk around.Huge metre long fish in the water…obviously Vin and Cas dared each other to get in and did 🙈.Beautiful elegant sailing yachts everywhere and my two boys wading through the water pushing each other towards the aforementioned monster fish….I think we lowered the tone but it was funny.
Shirley Heights.
This old military lookout has the most stunning views of Antigua,overlooking English Harbour.On Sundays theres a big bbq with live music…. a fun day although I didn't relax as there are some very big drops….not the best for excited kids.Although everyone else seemed happy, just nut job paranoid me😐.
365 Beaches.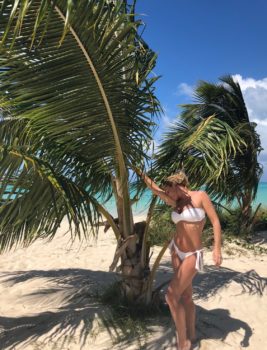 Antigua is famous for having a different beach for everyday of the year.We didn't see them all, thats for sure…but we gave it a good go.
Our favourite restaurants.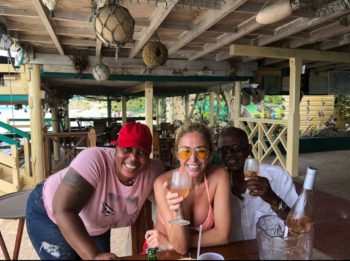 OJ's – A favourite with the locals.We had a great day there.The whole family ordered Lobster (Vin was thrilled 🤑) and Caspar ended up chatting to the main man OJ about fruit….the next minute, we'd left the restaurant and we were picking fruit in OJ's garden……Caspar said its his favourite restaurant in the world.
Jaqui O's – A really cool small beach club vibe.We had my birthday lunch here…amazing food and super chic. Almost felt like being home in Ibiza……I suppose its the equivalent of when I lived in the Uk,going in English bars on holiday 🤪.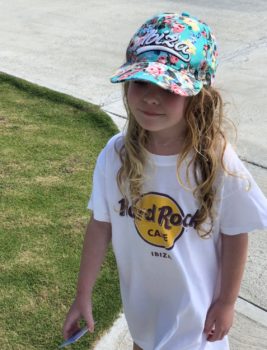 Blake representing!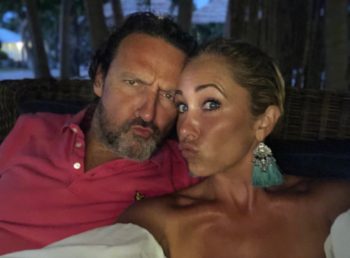 My love….I had shockingly shite hair the entire trip,so overcompensated with mahoosive earrings.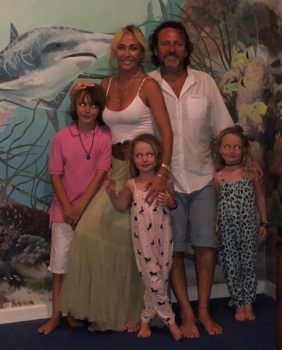 Full squad.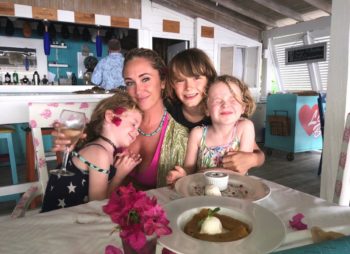 My babies on my 40th birthday.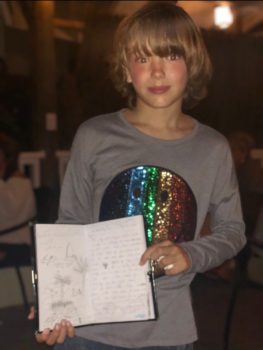 Caspar missed some school,so he wrote an Antigua Diary….with a detailed description and drawings of each days activities.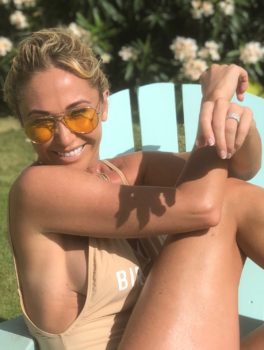 Happy.